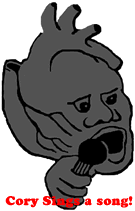 Bed Pan Blues
Copyright © 1995, 2001 - Muse-Med, Inc.
This song, "Bed Pan Blues", features Rick Glasener, RN, a "Founding Father" of Muse-Med, Inc. and TOO LIVE NURSE. As you can tell while listening to "Bed Pan Blues", Rick felt inspired during the writing of this song. The big question is: are the farting sound effects REAL or FAKE??? Only Rick knows! We're keeping this song "AS IS" on the Ineffective Individual Coping 2 album. We just don't want to mess around with Rick's sound effects!
Depending on your modem speed, choose from two versions of MP3 files. The higher the "kbps", the better the sound quality of the song.
ENJOY!!
---
Return to the TOO LIVE NURSE Home page.
Copyright 2001 - Muse-Med, Inc.