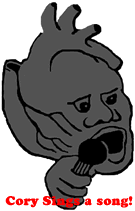 Incontinence Rag
(version 2002)
Copyright © 1995, 2002 - Muse-Med, Inc.
Incontinence Rag was rated "Top Funny Five" on the Dr. Demento Show!
Depending on your modem speed, choose from two versions of MP3 files. The higher the "kbps", the better the sound quality of the song.
ENJOY!!
---
Return to the TOO LIVE NURSE Home page.
Copyright 2001 - Muse-Med, Inc.